Spring - It's here! Come on out & enjoy.
Longer daylight, warmer temperatures, habitats in bloom and abundant food, that's what spring is all about. This also means exciting adventures outside for the nature lover. Species that have been absent throughout the winter return to northern latitudes; we find them in breeding plumage and often by following their song as males work hard to attract a female. Observing nest building, adults feeding their young and territorial disputes are part of our spring birding trips. Let's Go Birding welcomes all different birding levels and beginners are most welcome. There are several classes and workshops also offered this spring. If there is a place you want to go just send me an email!
Check out the trips! juvenile Western Bluebirds - photographed by Bay Area photographer Beth Hamel
You Can Come Too!
So what is birding?
A hobby, a sport, a challenge, a good time
Non-birders often ask,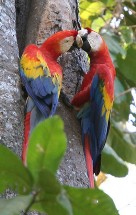 What is birdwatching?
Well, birding gets folks outside to enjoy everything found in nature. Its like going on a treasure hunt. Everywhere you look may find new creatures, plants & birds. As you get into the sport you end up with great toys from high powered optics, to fancy tripods and ipods, plus the latest outdoor gear that keeps you warm, cool or dry depending on your destination. Birding motivates one to explore the open spaces that people have worked so hard to preserve while also appreciating the birds in your own yard. Some get into the science of birds, while others delight in the pure joy of observation. Eventually birders travel the world, climb mountains, visit glaciers, cross deserts & go out into the oceans to find new species. You can meet great people and often end up doing service for organizations that can use a little help. All are welcome regardless of age, sex, beliefs or income.
Costa Rican Scarlet Macaws -Brooke Miller
Costa Rica 2014 tour itinerary

Quotes for the Birds
"Use what talents you possess: the woods would be very silent if no birds sang there except those that sang best."
Henry Van Dyke on Talent